Queens Museum
New York City Building
Flushing Meadows Corona Park
Queens NY 11368
Feb 16, 2–4:30 pm
Talk from 3–3:30 pm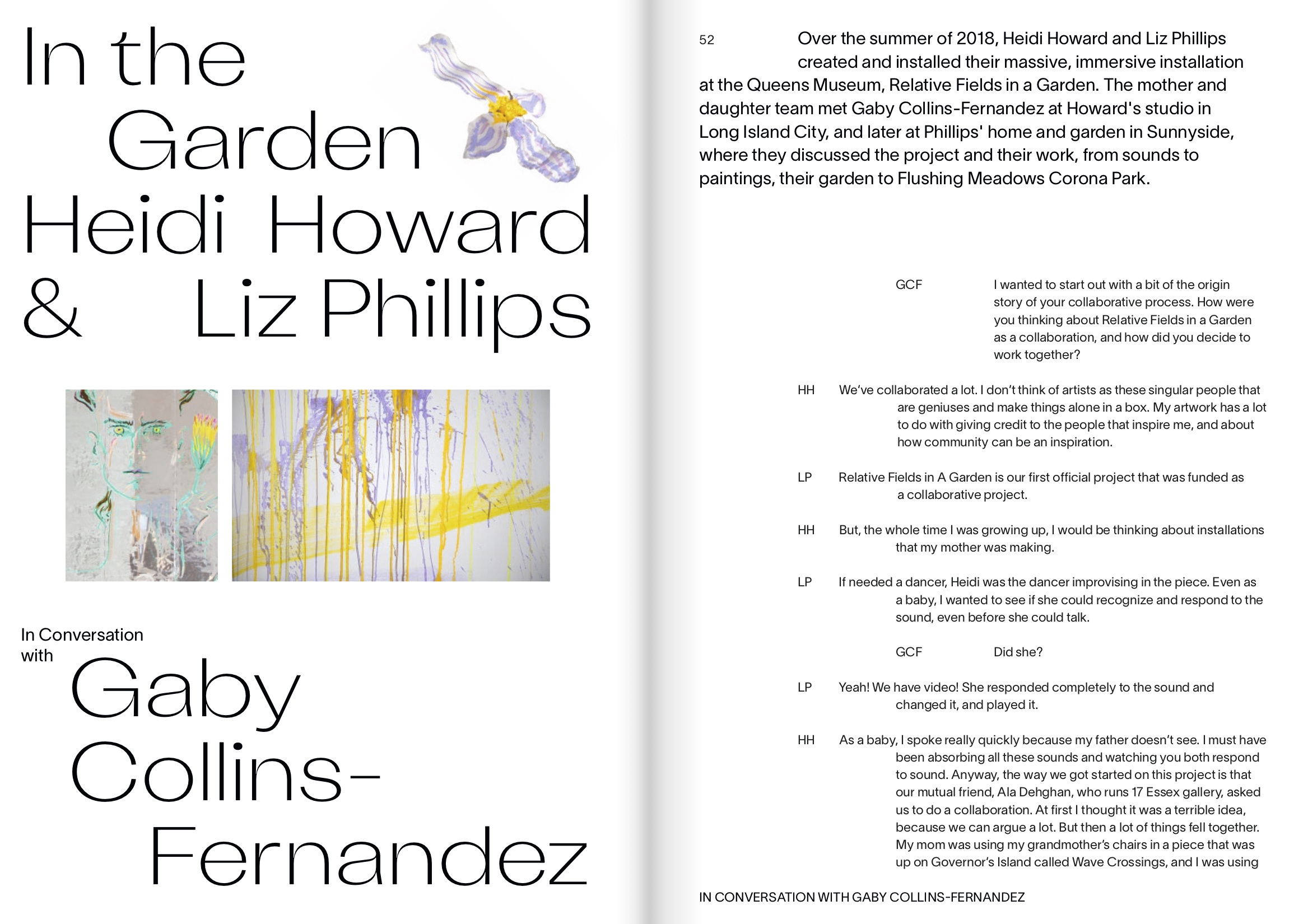 Click for full pdf of conversation

Join us for a special event in celebration of the closing of Relative Fields in a Garden on the Queens Museum's 140-foot-long Large Wall including an interactive virtual project and artist talk. Relative Fields in a Garden combines painter Heidi Howard's vivid gestural painting with her mother Liz Phillips' interactive soundwork, which uses wave transmissions that respond to the natural light of the museum's atrium.
The project is featured in the current issue of Precog Magazine, a publication that explores the intersections between art, technology, and feminism. For the issue, titled Bubble Orchestra, artists were asked to contribute submissions based on the concept and materiality of bubbles: as a metaphor for thinking through ideas of individuality and group cohesion; echo chambers and their tenuousness; algorithms; and the fragility of identity. The aim in bringing together this group of "bubbles" was to see how they sing together; what kind of cacophony or harmony is achieved in the proximity of these individual projects.
Precog is simultaneously launching a virtual exhibition of Bubble Orchestra consisting of an interactive space of different "bubbles" (contributions), made in collaboration with the Virtual Dream Center, an artist-run, downloadable, video-game based virtual exhibition platform that presents non-traditional methods of art-making and viewing led by Nicholas Steindorf and Jean-Baptiste Lenglet.
From 2:00-4:30pm visitors are invited to interact with Howard and Phillips' contribution to Bubble Orchestra, Relative Fields in a VR Garden, at a game-station situated in the Museum's atrium.
From 3:00-3:30pm Howard and Phillips will discuss the project with Nicholas Steindorf and Precog Magazine publisher Gaby Collins-Fernandez.
Relative Fields in Motion: A Collaborative Improvisation
April 12, 7:30pm
April 13, 1:30pm
This improvised sound and dance performance is organized in conjunction with the site-specific installation, Relative Fields in Garden (2018). The first collaboration between portraitist Heidi Howard and her mother, pioneering interactive sound sculptor Liz Phillips, the work comprises a year-long commission for the Queens Museum's Large Wall series for women-identified artists. Relative Fields in Motion will extend Howard and Phillips' exploration of the politics of relation and simultaneity found in the domestic sphere of the garden, and further activate their work's synaesthetic interplay between sound, image, and movement.
Directed by Howard, the performance combines saxophone by her father, virtuoso composer and performer Earl Howard with movement by dancer Cynthia Koppe, in an expanded sound installation by Phillips including ultrasonic sensor lines. As Koppe explores the brushing, dripping, slapping and layering of Howard's painted actions, her gestures will be processed through Phillips' installation to modulate, resonate, and sustain sounds, creating a live-responsive mix with the field recordings of bees, leaves, birds, trains and water that loop through the twenty speaker objects in the hundred-foot-long soundscape.
Howard's saxophone improvisation will draw from real-time observations of the varying arrangement, as well as his intimate knowledge of the source recordings from his and Phillips' Sunnyside, Queens garden. His live response will bring further form to this range of coincidental interactions produced among each artist's investigation and the audience's experience, merging the context of a private, urban garden with that of an interior public space, in one dynamic and interactive event.  
Cynthia Koppe is a New York based dancer. Born in Singapore, she holds a BA from Cornell University in Sociology and Dance. She has worked with Liz Santoro and Pierre Godard since 2008 and continues to work with their Paris-based company, Le Principe d'Incertitude. Cynthia was a member of Shen Wei Dance Arts from 2009-2016, helping to originate roles as well as performing repertory. She has also worked with Ellis Wood, Bill Young, Ryan McNamara, Sam Roeck, Adam Weinert and Christopher Williams, and was a reperformer in Marina Abramovic's 2010 MoMA Retrospective. In addition to dancing, Cynthia teaches embodied movement through Pilates and Yoga.
Heidi Howard (b.1986, New York, NY) has exhibited her work at Nancy Margolis Gallery, New York, NY (2017, 2016, 2015), Gaa Gallery, Provincetown, MA and Cologne, Germany (2018, 2017), The Hunterdon Museum of Art, Clinton, NJ (2017), James Cohan Gallery, New York, NY (2016) and many more. She has been an artist in residence at Palazzo Monti (2018), Byrdcliffe (2014) and the Vermont Studio Center (2011). She received her BA from Sarah Lawrence College and her MFA from Columbia University. She lives and works in Queens, New York.
Liz Phillips (b. 1951, Jersey City, NJ) studied at Bennington College and received a Guggenheim Fellowship in 1986. She has been making interactive sound installations for over four decades at venues such as Harvestworks on Governors Island, NY (2017); Creative Time (1981,2001); Lincoln Center, New York, NY (2002, 2001); the Jewish Museum, New York, NY (2002); Ars Electronica, Linz, Austria (1991, 1988); the Whitney Museum of American Art, New York, NY (1988, 1985); and the Stedelijk Museum, Amsterdam, Netherlands (1978) and many more.
Earl Howard (b. 1951, Los Angeles, CA) is an American avant-garde composer, arranger, saxophonist, synthesizer player and multi-instrumentalist. Howard is one of the pioneers of what is called "new" music. He has received numerous awards including, a Guggenheim Fellowship (2011), a grant from Harvard's the Fromm Foundation, a Regents Fellowship at University of California, San Diego, and three New York Foundation for the Arts Fellowships. In 2004 His  first sound installation was commissioned for the Tiffany Collection at the Queens Museum of Art. Howard has also produced soundtracks for video artists including Nam June Paik and Mary Lucier.
Relative Fields in Motion is made possible, in part,  by the Queens Council on the Arts with public funds from the New York City Department of Cultural Affairs in partnership with the City Council. Support for Relative Fields in a Garden, 2018 is provided by Agnes Gund. The Large Wall series at Queens Museum is supported by The Ferriday Fund Charitable Trust. Relative Fields in a Garden was commissioned in conjunction with the exhibition, Queens International 2018: Volumes (October 7, 2018 – February 24, 2019). QI 2018 is made possible in part by support from the National Endowment for the Arts and the American Chai Trust. Exhibitions at the Queens Museum receive significant support from Ford Foundation. Major funding for the Queens Museum is generously provided by the New York City Department of Cultural Affairs, the New York State Council on the Arts with the support of Governor Andrew M. Cuomo and the New York State Legislature, Lambent Foundation, Booth Ferris Foundation, and the Lily Auchincloss Foundation, Inc.
 "Relative Fields in a Garden" at the Queens Museum October 7, 2018 – August, 2019
Materials: Acrylic paint, ceramic, bamboo, birch veneer, mirror film, metal chairs, Serge analog synthesizer, sound transducers, light sensors and multichannel looping audio players
In their first artistic collaboration, mother Liz Phillips and daughter Heidi Howard present a multimedia mural and sound work. Howard, a painter, depicts Phillips, a sound artist, in her Sunnyside, Queens garden with fantastical flora that bridge representation and abstraction and transition through the seasons: spring on the left to winter on the right. In spring is Howard's self-portrait, gazing into an ornate mirror. In fall, Howard painted a yellow floral scarf owned by her late grandmother Geraldine Phillips.
As part of her long-time work in interactive sound installation, Phillips has created sound fields using wave transmissions. Here, sculptural elements including ceramics made by Howard, bamboo, and birch veneer have become speakers through contact with a transducer, which converts electrical signals into tactile sound. They play Phillips' continuously modulating composition–some of which was recorded in her garden–of seasonal wildlife, water, leaves, and city noises. With the use of sensors, these sounds respond to the passage of sunlight across the wall. Both the mural and the audio become increasingly abstracted in the winter section, where shard-like strips of mirror film are paired with distorted sounds of ice melting and people sorting cans and bottles. Visitors are invited to sit in three garden chairs previously owned by Geraldine. Also functioning as speakers, they vibrate with river sounds, in homage to her lifelong affinity for water.
Sound for Wavecrossings in Souvenirs: New New York Icons at Storefront for Art and Architecture, September 16th – November 18th, 2017
Blog for Wavecrossings on Governor's Island, 2017

BIYUU, Roulette, Brooklyn, NY, 2012
Plant Fields, wind and rain, UMF, 2012
This video of interactive wind sensors and Plant fields (creating sound shifts) was made at my installation in Farmington, Maine by Dawn Nye. This work was made possible with a grant from the David Bermant Foundation.
Here, Hear: Manhattan is an Island, White Box, 2011 
This installation first exists literally on my drawing board.
So Manhattan is an Island.
Can we hear it like being in a row boat?
Can we record the tides from every direction as they wash against the island?
With cellphones and digital decks we will synchronize recordings in three places on the water at once.
I want to play them back through transducers/objects of wood, shells, bamboo, and whatever else brings back the places where I recorded and my memory of the water there.
This installation is dedicated to the memory of Maryanne Amacher and her wonderful "City Links" performed installation series. There, she performed. The natural sound rode on the threshold of silence with a live class A phone line of river and dock sounds in her mix..